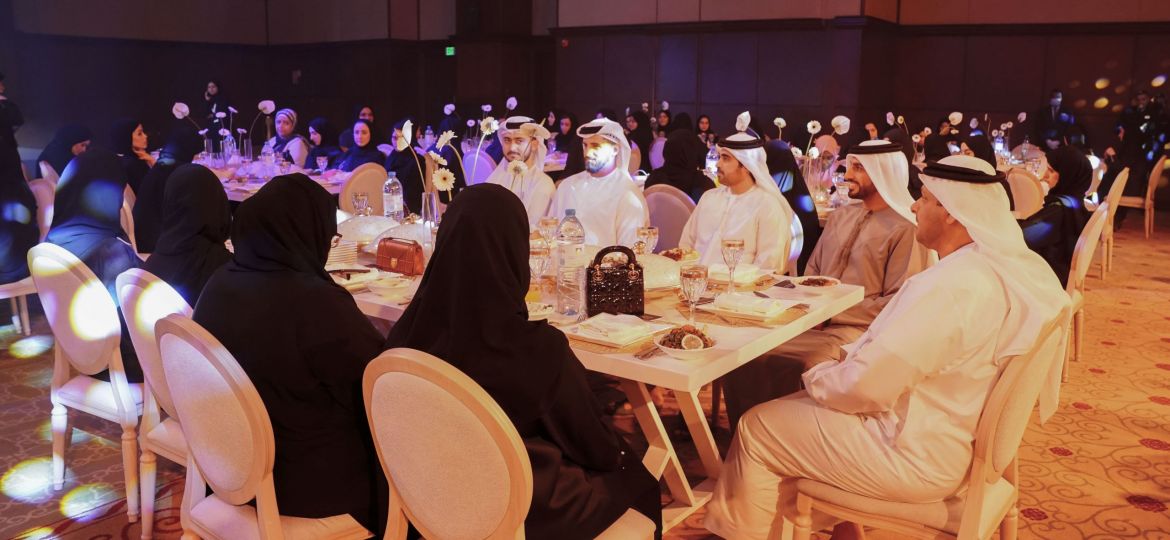 H.H. Sheikh Rashid bin Humaid Al Nuaimi, the Chairman of Ajman Municipality & Planning Department, honored the personnel who have won Ajman Excellence Awards 2023 for the category of the outstanding public entity in government communication and integration, which involves the partnership & integration criterion and the government communication criterion, and for the best entity in the customer satisfaction index of service centers.
This took place during the annual meeting that was organized by the Department, under a generous patronage of His Highness, under the slogan "Up to the Top", with the presence of H.E. Abdul Rahman Mohammed Al Nuaimi, the Department's Director-General, the sectors' directors, and a remarkable participation of male and female employees.
His Highness delivered the certificates of gratitude to the work teams that have achieved honorable results in the quality of life improvement criterion and the strategic trend and competition criterion, while he appreciated the efforts of the teams that participated and put intensive efforts in the future readiness criterion, the major tasks criterion, the interlinked proactive services criterion, the smart empowerment criterion, the professional talents criterion, the resources & properties criterion, as well as the data & knowledge management criterion.
His Highness emphasized in the speech he delivered: "Every employee of the Department is performing a significant role and the efforts are being integrated for the happiness of the society, the protection of the health and safety of citizens and residents, and the provision of an integrated infrastructure. The Department considers access to every member of the society and the provision of smart services and all the elements of welfare to be its most precious medal of honor in its daily operation and its diligent efforts for the service of the homeland and the citizens."
From his side, H.E. Abdul Rahman Mohammed Al Nuaimi stated: "The Department is proud of its employees, as they are the pillars of success and development and the banner of continuity in the journey of prosperity. Everybody is working under a single umbrella in the spirit of a single team and a large family that never gets enough of achievements and successes."
The ceremony witnessed the announcement of the winners of "Shukran Award" in its first round, which includes the category of the welcoming, communal and model employee.
From his side, Sultan bin Darwish, the Director of the Department's Human Resources Department, emphasized: "The Department cares to hold this meeting on a periodic basis so that it would be a platform for coming together, the exchange of opinions, and the appreciation of the efforts of those who are entitled to such appreciation. Every male and female employee is keen to give the best and to achieve positive results in the various sectors."