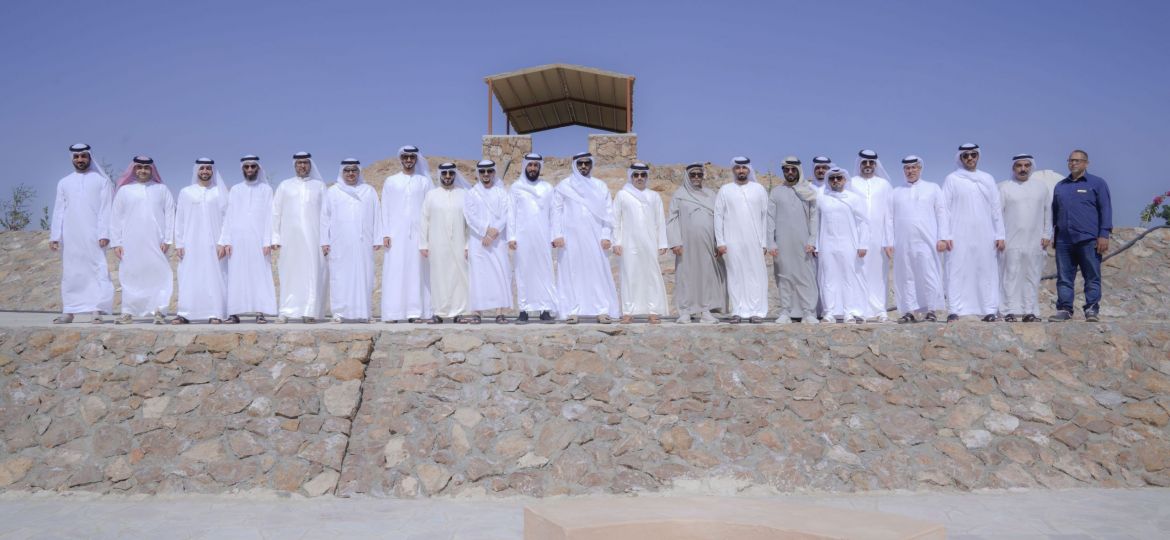 Abdul Rahman Mohammed Al Nuaimi the Director-General of the Municipality and Planning Department in Ajman, inspected the progress of work in the Manama Municipality Department and the completed and under implementation projects in the city. This came during His Excellency's field visit to the city of Manama, where he was accompanied by the executive directors of the Department and managers of departments, and was received by Salem Abdullah bin Ghalaita, Director of the Manama Municipality Department.
His Excellency stressed that Manama was able, during the past period, to accomplish many achievements and launched vital projects that affect everyone, indicating that the city has natural landmarks and an attractive environment for residents, visitors and investors, due to its nature, moderate climate and progress in the field of infrastructure development.
His Excellency added that the Department adopts a clear and integrated plan to develop the city and support projects in it in accordance with the Department's plans and strategic objectives represented in developing an integrated infrastructure and achieving balanced urban development, explaining that the completed and under implementation projects will be a destination for all.
For his part, Salem bin Ghalita gave his Excellency and the audience a detailed explanation of the work of the Manama Municipality Department and its current and future projects in various fields and the smart transformation in the provision of services in addition to the initiatives and events aimed at delighting customers and preserving the health and safety of society in addition to preserving the environment and its resources.
Bin Ghalita added that the Department will focus this year on the axis of sustainability, embodying the declaration of His Highness Sheikh Mohammed bin Zayed Al Nahyan, President of the State, may God protect him, in 2023 as the year of sustainability.
A session with the people of Manama
His Excellency's tour in Manama included an interactive session with the people of Manama, where he listened to their views on the projects and their proposals based on good sense and long experience.
The visit was concluded with an inspection tour of the most important landmarks of the city, and His Highness stressed that Manama is an ideal tourist destination for individuals and families, as it embraces the legacy of history and originality and provides the elements of luxury, happiness and a bright present for residents, visitors and tourists.