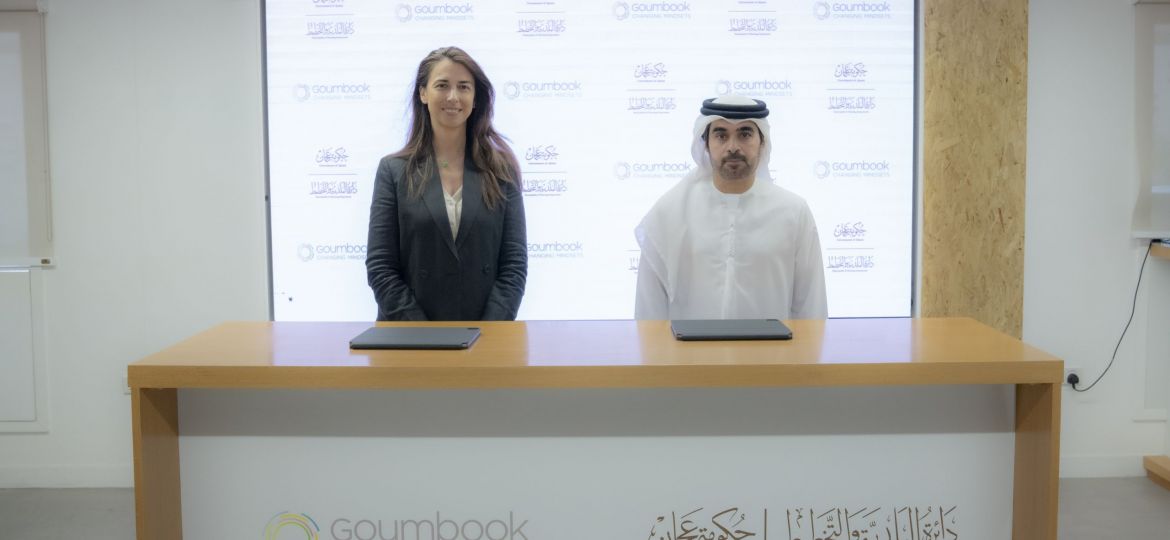 The Municipality and Planning Department – Ajman (MPDA) signed a memorandum of understanding with Goumbook Company, to carry out the avicennia tree planting project in the Al Zorah Reserve, supporting the state's goal of planting 100 million avicennia trees by 2030, coinciding with the Year of Sustainability and efforts geared towards at supporting comprehensive development, and in line with joint efforts between state agencies and institutions in the carbon neutrality field. The MoU promotes constructive action for the climate, by adopting solutions that support efforts to reduce emissions, demonstrating the role of nature in achieving climate neutrality and enhancing efforts to protect ecosystems and biodiversity.
The MoU was signed by MPDS's Director General His Excellency Abdul Rahman Mohammed Al Nuaimi, and Goumbook's Founder and Managing Director Ms. Tatiana Antonelli Abella, in the presence of a number of officials from both sides.
In this vein, His Excellency Abdul Rahman Al Nuaimi asserted that the MPDA constantly works to increase the green area in Ajman and develops integrated plans to expand the scope of green areas and turn Ajman into a city of nature, beauty and sustainable development. It also pays significant attention to natural reserves, which are a valuable wealth, by protecting and enhancing them and planting trees of historical origins that reflect the state's identity and distinctive mark. MPDA is keen to adopt projects aimed at consolidating cooperation with leading companies in the agricultural and environmental fields, His Excellency added.
For her part, Ms. Tatiana Antonelli Abella said, "We are honored to work with the Municipality and Planning Department – Ajman on this project which reflects our efforts and commitment to promoting biodiversity, nature-based solutions and climate action to provide an essential habitat for the avicennia trees, which is beneficial for the ecosystem, society, environment and economy."
The MoU includes both parties' commitment to preserving biodiversity and activating the participation of concerned parties in activities related to protecting natural heritage, empowering communities, and improving the quality of life by providing job opportunities, as well as enhancing efforts at corporate responsibility and environmental protection.