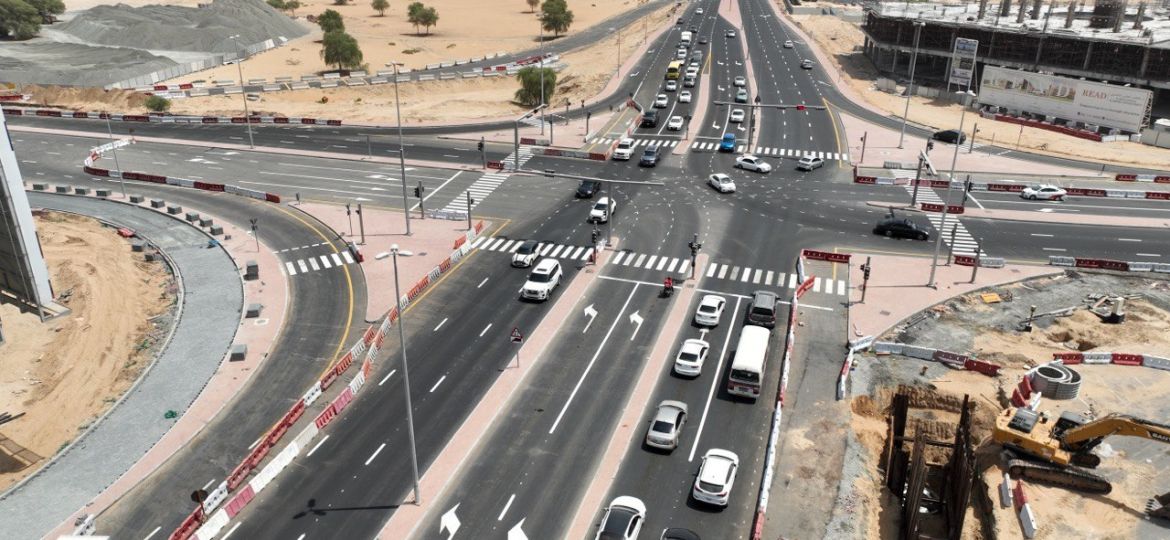 His Excellency Abdul Rahman Muhammad Al Nuaimi, Director General of the Municipality and Planning Department in Ajman, was briefed on the progress achieved in Sheikh Ammar Street development project, which recorded 65 % for now.The project falls within the first package of His Highness Sheikh Humaid bin Rashid Al Nuaimi, member of the Supreme Council and Ruler of Ajman' s initiative to develop infrastructure and the advancement of Ajman to be one of the most important modern cities in the field of architecture and construction.
His Excellency, accompanied by Mr. Ahmed Hassan Al-Fora, CEO of AIMS Group, and Eng. Abdullah Mustafa Al-Marzouqi, Director of Roads and Infrastructure Department, inspected the progress achieved, which is expected to be completed early 2023. He explained that "the goal of the project is to expand the street from the two sides to be 3 lanes in each direction, from Al-Rawda Bridge to Sheikh Ammar Bridge to increase the capacity of the street to accommodate daily use and the percentage of its users".
His Excellency indicated that "Sheikh Ammar Street is one of the most vital streets in Ajman, which required the preparation of a development plan that includes a examining the current situation and identifying current and future needs. Accordingly, the project, at a cost of 69 million dirhams, will include the development of Al Tallah Street to be a two-lanes  street in each direction,  what will contribute to ensuring a smooth flow of traffic movement and reduce traffic congestion".
His Excellency explained that "the Department had recently inaugurated the intersection on Sheikh Ammar Street near the schools complex in the Al Tallah area, after completing the development of the intersection, carrying out the rain drainage network and installing traffic signals as part of the development stages of the street to improve traffic movement for those coming from Sheikh Mohammed bin Zayed Street towards the city center, as well as those leaving Ajman and facilitating their access to Sheikh Mohammed bin Zayed Road".
"The Municipality Department has prepared a comprehensive and integrated development plan to cover all areas of the Emirate of Ajman to achieve interconnection between all roads  in line with the strategic objective of providing an integrated infrastructure and enhancing interconnection between infrastructure elements and residential communities" His Excellency said.
For his part, M. Abdullah Al-Marzouqi presented detailed explanation for his Excellency on the project, its stages of work and desired results, explaining that "the development project will include carrying out a rainwater drainage network according to the highest international standards".
He added that "the competencies working on the project are going to complete the project in a record time to facilitate the arrival of residents and visitors to their desired destinations".