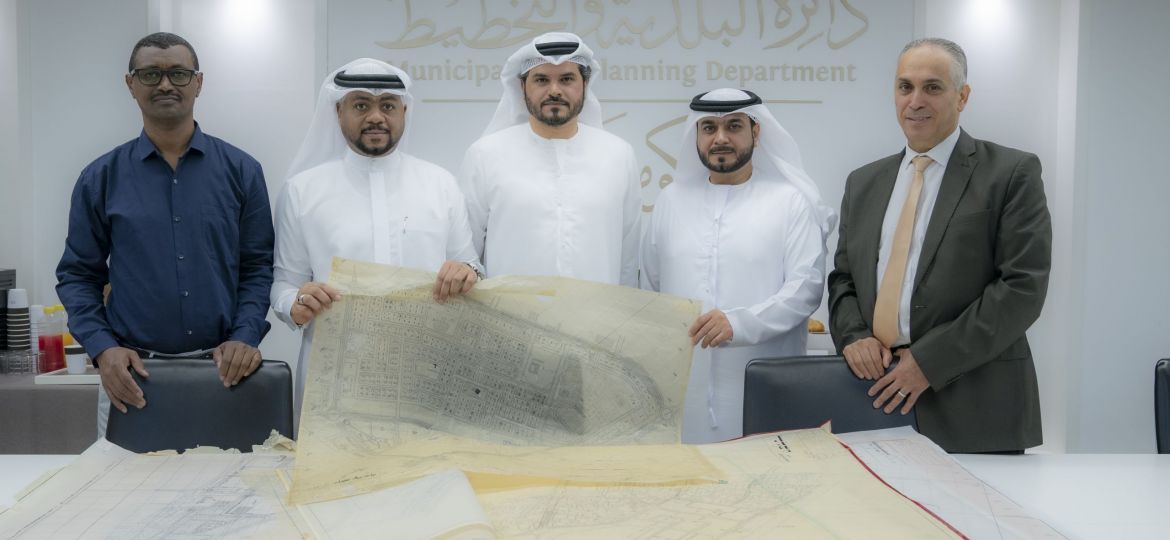 Ajman Municipality & Planning Department launched the project for archiving old maps in cooperation with the National Library & Archives (NLA) in Abu Dhabi, whereby the project takes place under the umbrella of "Ajman Heritage", which combines all present and future projects of the ancient history, the deeply-rooted heritage, and the authentic past for the preservation of the Emirate's identity and outstanding footprint.
Dr. Eng. Mohammed Ahmed bin Omair Al-Muhairi, the Executive Director of the Department's Infrastructure Development Sector, received a delegation from NLA, consisting of Dr. Hazza Al-Naqbi, the Chairman of the Government Archives Department, and Mr. Ahmed Moujeb, the technical expert, with the presence of the Department's specialists.
Dr. Eng. Bin Omair stated in the beginning of the meeting: "The Department has relied on qualified staffs that have cared for the preservation of old maps that date back to more than 45 years ago, and whose details were drawn and written by hand.", while he conveyed his happiness to cooperate with NLA, which welcomed the idea of the preservation and archiving of the maps.
Dr. Eng. Bin Omair said: "A qualified team of the Department has worked over the past period on the collection of the maps for the purpose of transferring the same to NLA. The maps represent a part of the Emirate's history and authentic heritage."
The meeting involved a discussion of the means for bolstering the bridges of the present cooperation and building an active partnership between both entities to ensure the attainment of the objectives and the continuation of joint operations.
From his side, Dr. Hazza Al-Naqbi and the expert Ahmed Moujeb applauded the project, which involves the preservation of a heritage and historic wealth and which makes the same available to researchers on development in the Emirate and urban planning, while he stated: "NLA will archive the maps according to the applicable steps and will handle such maps according to permanent preservation standards and will classify the same in the ideal manner."
It is notable to mention that NLA has transferred the maps after receiving the same from the Department by vehicles that are furnished with special equipment for handling maps to ensure the preservation of the same during transport.