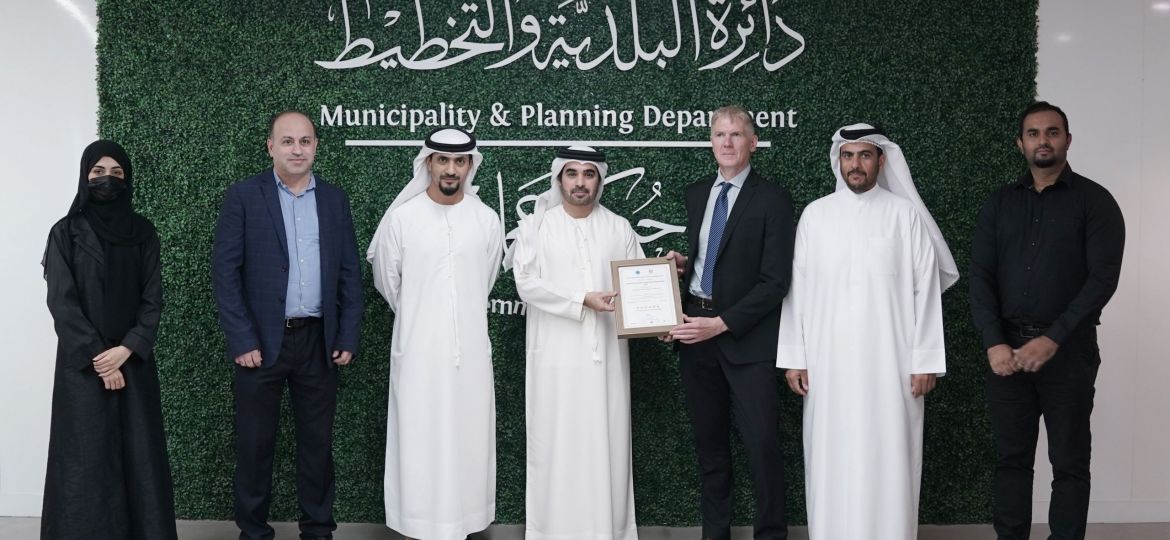 The Municipality and Planning Department in Ajman won the "International Best Practice" Award for its mobile environmental artificial intelligence laboratory project "Mobile Laboratory", with 6-star rating, after undergoing all stages of comprehensive audit and evaluation conducted by international arbitration committees for the award-giving company in New Zealand. The Department won after competition with 60 entities from around the world.
In this regard, His Excellency Abdulrahman Mohammed Al Nuaimi, Director General of the Municipality Department, confirmed, during receiving the certificate, that the human competencies seek to achieve the best and advance the Department, and look forward to maintaining the continuous progress and success process, launching qualitative ideas and pioneering projects having tangible impact on everyone, including the Smart Environmental Lab project, which is an innovative project and the first of its kind in the Middle East and is supported by artificial intelligence techniques that are used for the first time in detecting emissions and odors.
His Excellency said that the laboratory includes measurement mechanisms and equipment that were gathered in a smart laboratory, which was supported by survey and monitoring devices, which work instantly, relying on modern technologies to analyze data for the results, and support smart city plans by providing an electronic system that contributes to raising the efficiency of inspection and control. He indicated that the staff will work to develop the project through additional devices such as a drone and instant environmental sampling devices, and the cadres seek to work on transforming it into self-operating ones.
For his part, Eng. Khaled Moeen Al Hosani, Executive Director of Public Health and Environment Sector, said that vital projects enjoy permanent support from His Highness Sheikh Rashid bin Humaid Al Nuaimi, Chairman of the Department, and follow-up from His Excellency Abdulrahman Al Nuaimi, indicating that the mobile laboratory has contributed to achieving positive results during the recent period, as it is easy to link with systems and immediate data transmission to inspection groups, which contributed to reducing inspection visits, tightening control over all facilities, and controlling many erroneous practices.#
"The mobile laboratory includes an electronic system specialized in managing various environmental data, which includes air and water quality, marine environment and data from sewage stations", Al Hosani added.
It is worth noting that the award provides an opportunity for the participation of prestigious research centers, and also organizes an international best practices competition to reward the institutions using the best operational and administrative practices, processes, systems and initiatives that include sustainability, response time, artificial intelligence, digital transformation, governance, future foresight, and knowledge management, so that the Department can win the international award through its first participation.