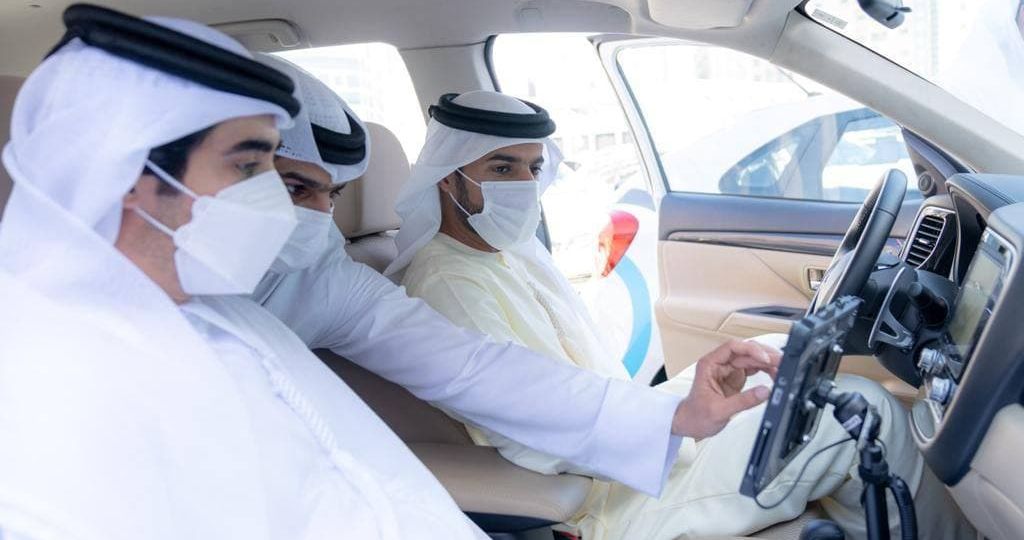 H.H. Sheikh Rashid bin Humaid Al Nuaimi, the Chairman of the Municipality & Planning Department – Ajman, inaugurated the smart parking project, which cares for the development of parking monitoring systems in the Emirate of Ajman, in line with the far vision of the wise leadership for progress in the field of complete digital transformation.
This took place with the attendance of H.E. Abdul Rahman Mohammed Al Nuaimi, the Director-General of the Municipality & Planning Department – Ajman, Dr. Eng. Mohammed Ahmed bin Omair Al Muhairi, the Executive Director of the Department's Infrastructure Development Sector, Eng. Abdullah Mustafa Al Marzooqi, the Director of the Department's Road & Infrastructure Department and the head of the project's work team, Youssef Mohammed Al Sheiba, H.H. the Department's Chairman's Advisor for Digital Transformation & Artificial Intelligence, Hind Al Shamsi, the Director of the Smart Services Development Department, Humaid Al Falasi, the Head of the Paid Parking Department, and a number of experts and specialists.
In this regard, H.H. Sheikh Rashid bin Humaid confirmed during the inauguration that the Department aims to employ the latest AI technologies for work optimization and promotion, a thing which will have positive impacts on the various aspects of life. He stated that the project has relied on the utilization of smart systems for the governance of the parking management process and to increase the efficiency and competency of parking organization.
His Highness stated that the Department has found it appropriate to launch this qualitative project in concurrency with the innovation month 2022, due to its care for the adoption of the vital projects whose impact can be felt by everybody and that yield several positive benefits.
His Highness said: "The Department will employ fixed cameras and vehicles that are equipped with smart cameras in the paid parking spaces within the Emirate, being 17261 parking spaces, for the management of parking spaces efficiently and competently and for the completion of all the processes associated therewith within few seconds.
From his side, Eng. Abdullah Al Marzooqi, appreciated the support of the wise leadership, which adopted the project and gave the green light to the team for the implementation thereof, while he applauded the efforts of the Department's qualified and competent personnel, who worked continuously and hard for hours and hours so that the project will come to light and achieve the desired objectives.
From his side, Humaid Al Falasi gave a detailed explanation to His Highness and the attendants about the smart project and its work stages, objectives, and vision, which include efficient time management and efficient data entry. He stated that the first implementation stage of the project will contain Sheikh Rashid bin Humaid Street and Sheikh Humaid bin Rashid Street, the Gold Market Area, and Mohammed Salem Bu Khamis Street, while the second stage will include an expansion of the project scope and implementation within a number of vital streets.