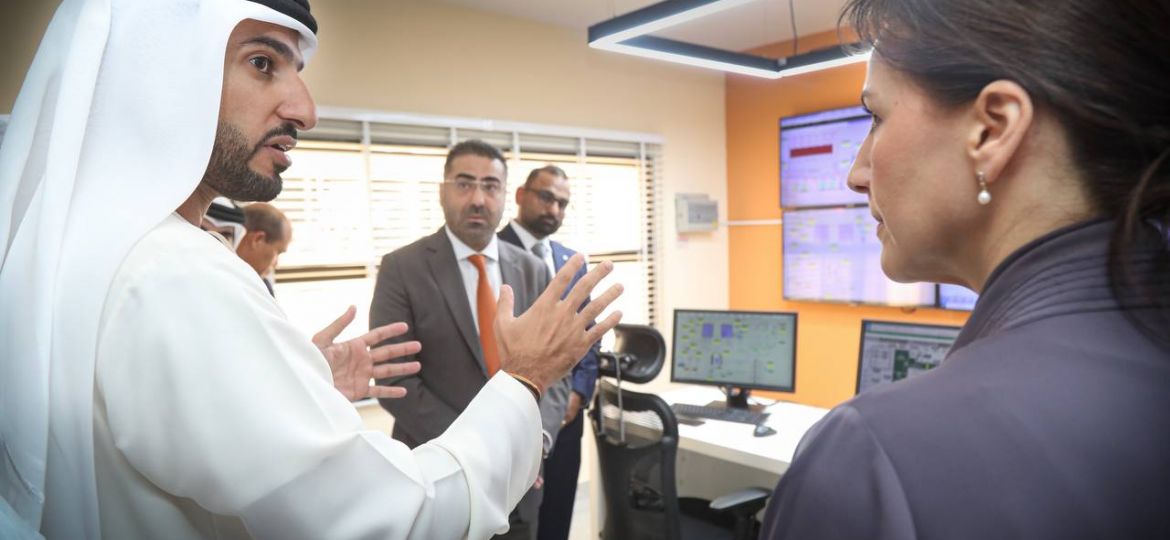 His Highness Sheikh Rashid bin Humaid Al Nuaimi, Chairman of the Municipality and Planning Department – Ajman (MPDA), and Her Excellency Maryam bint Mohammed Al Muhairi, UAE Minister of Climate Change and Environment, were briefed on the achievements of the Ajman Sludge-to-Energy project, being implemented by the Ajman Sewerage (Pvt) Co. Ltd (ASPCL).
For his part, His Highness praised the flagship project, the first of its kind in the Arabian Gulf, for producing "green" electricity from wastewater treatment plant sludge, in line with the UAE's strategy to support clean energy and seek to address pressing environmental challenges and find innovative solutions.
His Highness expressed his pride in the remarkable achievements made by the sludge-to-energy project, which cost 120 million dirhams. The project succeeded in treating up to 920 cubic meters of sludge per day, generating 2.4 megawatts of green electricity; an ideal amount to cover a large portion from electricity consumption of the Ajman sewage.
For her part, Her Excellency Maryam Al Muhairi said that the project is a perfect sustainable project model, achieving the best results desired. "The impact of the Ajman Sludge-to-Energy project goes beyond just energy production as it addresses the issue of sludge management in a dynamic manner, transforming waste into a valuable and sustainable resource, as the Ajman sewage demonstrated continued commitment to waste reduction and environmental sustainability, supporting the circular economy and renewable energy initiatives," Her Excellency said.
Her Excellency Al Muhairi added that the success of the Ajman Sludge-to-Energy project strengthens the status of sustainable and environmentally responsible practices, and drives for the transition to renewable energy and the adoption of innovative waste management solutions.
His Highness Sheikh Rashid bin Humaid and Her Excellency Maryam Al Muhairi were accompanied by His Excellency Abdul Rahman Mohammed Al Nuaimi, Director General of the MPDA, His Excellency Mohammed Saeed Sultan Al Nuaimi, Acting Undersecretary of the Ministry of Climate Change and Environment, and representatives of partners from BESIX and Veolia.
It is worth noting that the Ajman sewage has achieved greater independent electrical performance. As of July 2023, it achieved 70% self-sufficiency in electricity, and contributed to reducing the volume of sludge by 40%, highlighting the project's efficiency in waste management and environmental preservation.