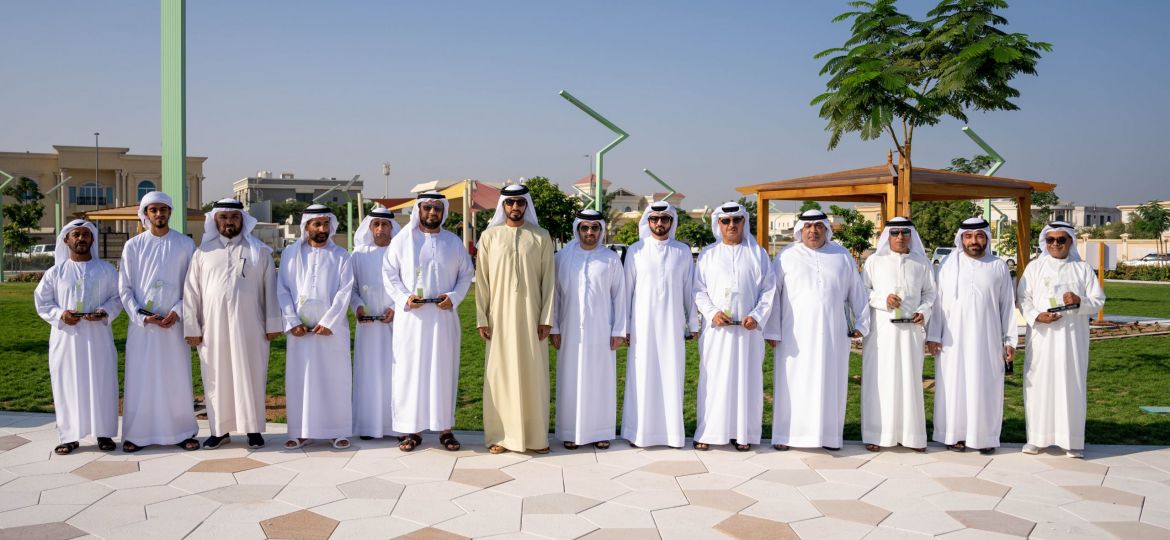 His Highness Sheikh Rashid bin Humaid Al Nuaimi, Chairman of the Municipality and Planning Department in Ajman, inaugurated 5 gardens of residential complexes in Al Helio, Al Jarf, Al Hamidiya and Al Rawda areas, with an area of ​​17,00 m2, and at a cost of AED 5,600,000, as part of the Department's keenness to increase the green spaces in the Emirate and upgrade it to be one of the most important green cities in the world, which provides the ingredients for a comfortable life and a healthy atmosphere.
His Highness honored 22 winners of Ajman Agriculture Award in its 13th session, in the presence of His Excellency Abdulrahman Mohammed Al Nuaimi, Director General of the Department, Eng. Khalid Moeen Al Hosani, the Executive Director of the Public Health & Environment Sector at the Department and Ahmed Saif Al Muhairi, Director of Agriculture and Public Parks, the prize sponsors and success partners.
In this regard, His Highness stressed that the Department is developing a comprehensive and integrated plan that covers all regions of the Emirate, to provide natural outlets for the population, and supports all bright models in the field of agriculture and seeks to reward them, to set a positive role model for all, indicating that the award has succeeded over the past sessions in attracting leading groups and segments of society in the field of natural resources conservation, and highlighted the bright image of mosque gardens, indoor and outdoor gardens and productive gardens.
His Highness spoke about the details of the gardens he inaugurated during the ceremony, and explained that the Department targets the wellbeing and happiness of everyone in the community, and accordingly it adopted the projects of the gardens of residential complexes aimed at providing open spaces for children and families and enabling them to spend happy times in places where green spaces, sittings, games, parking and corridors are available, in addition to parking lots.
For his part, Ahmed Saif Al Muhairi provided a detailed explanation to His Highness and the attendees about the gardens project, which is within the first phase of the complexes' gardens projects. "The Department's cadre prepared a detailed study of the densely populated areas to provide gardens for the residents. That is why, we completed Dabdaba and Al Shorouq gardens in Al Helio, Al Mahaba Garden in Al Jurf, Al Zahra Garden in Al Hamidiya, and Al Maha Garden in Al Rawda", he indicated.