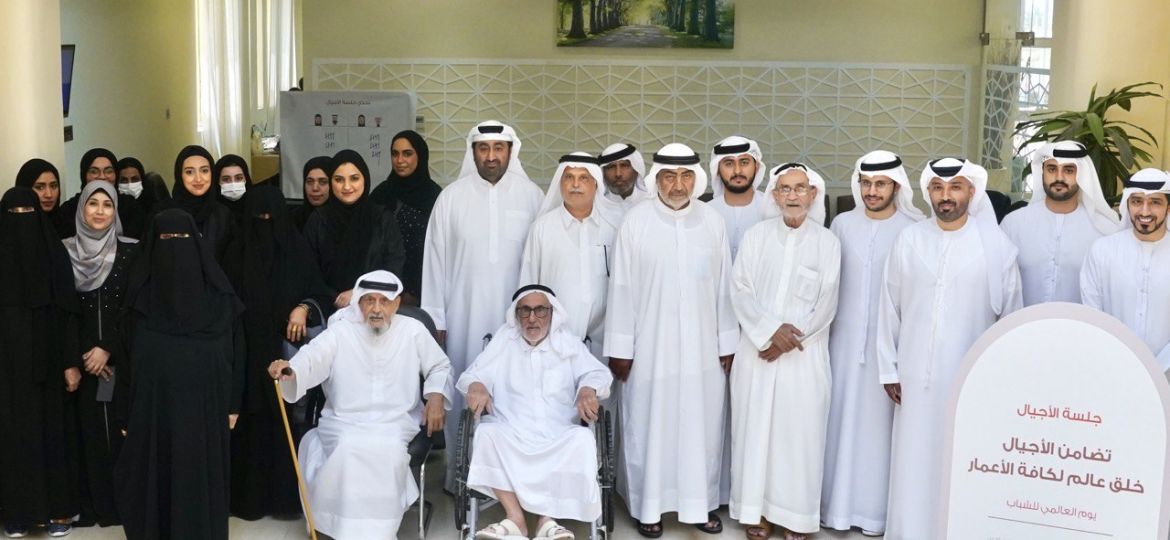 The Youth Council of the Municipality and Planning Department in Ajman organized a generational solidarity session at the Ministry of Community Development, which sought to lay bridges of permanent and direct communication with senior citizens, coinciding with the International Youth Day, which falls on August 12 of each year.
The session was attended by Dr. Eng. Mohammed Ahmed bin Omair Al Muhairi, Executive Director of the Infrastructure Development Sector at the Department, Mr. Rashid Al Ghamlasi, Head of the Senior Citizens Happiness Center in Ajman, and Engineer Maryam Al Mulla, Head of Marketing and Media Department, Head of the Department's Youth Council and with the participation of Council members and a number of Ajyal Summer Program affiliates and the Department employees.
In this regard, Eng Maryam Al Mulla said " the world celebrates today its youth as they are diverse creativity and energies, creative talents and a title for change and development", stating  that "the United Arab Emirates, under its wise leadership, has paid great attention to youth by activating their roles, investing in their energies and enhancing their participation in various fields".
"This year's Youth Day bears the slogan of generational solidarity to promote the values of coexistence and communication between all groups and segments in the society and create a society that embraces all ages, appreciating the role of each segment that contributes to the advancement and supremacy of our country"  she added.
Al Mulla said "the Youth Council decided to celebrate senior citizens, as they are the title of the past, the basis of the present, and the foundation for establishing a better future", expressing her "happiness with the leadership's keenness to participate in the session, which constitutes a link between generations and opens the doors to mutual benefit and knowledge".
Al-Mulla thanked "the Ministry of Community Development for contributing to the success of the session", stating  that "all departments are working in an integrated manner and intensifying their efforts in line with the state's visions and strategic objectives".
In the session, which included interesting conversations, fruitful experiences and various challenges, senior citizens reviewed the old tools, as well as the youth exchanged a presentation of contemporary tools, so that the two parties guess what and how to use them.
The session concluded by listening to a senior citizen who spoke about the past and answered the questions of the generations, stressing the need to bridge the gap between generations and coexistence between all ages and knowledge of the successive changes of the era.