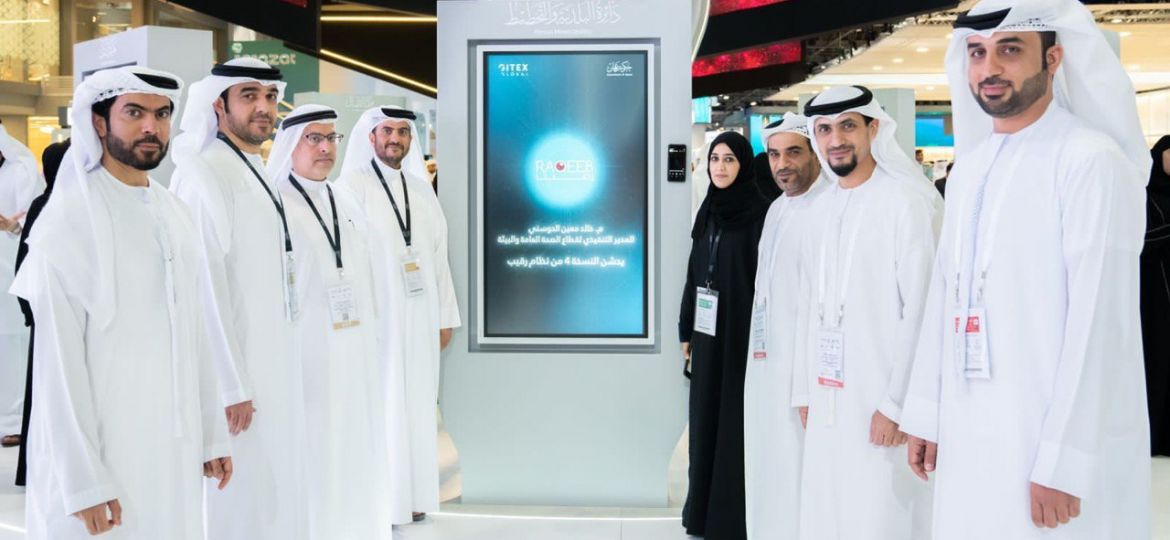 The Department commenced the events of day 4 of its participation in GITEX 2022 by the launching of the 4th version of "Raqeeb" system by Eng. Khalid Moeen Al Hosani, the Executive Director of the Public Health & Environment Sector. "Raqeeb" is the uniform inspection system of the Department's sectors, which is used by inspectors for the purposes of field inspection in all sectors, in what led to the reduction of human intervention by 95%.
Eng. Al Hosani stated: "The Department is always looking forward to development and to enable its qualified competent personnel to employ modern technologies that enhance work quality and increase the percentage of performance. The updates and features that have been developed since launching "Raqeeb" aim to enable the employees to use "Raqeeb's" capabilities in the fullest manner, perform inspection tasks efficiently and effectively, cover all facilities of a single activity, and unify the decisions of inspectors by the checklist designed for every activity. Furthermore, the system has been enhanced with AI technologies, such as the smart route feature for the reduction of the inspector's time and effort and the reduction of the percentage of carbon emissions into the environment, as this feature helps the inspector to propose the optimum and shortest route for the performance of his inspection task, and it also arranges such task in terms of distance and the time needed to reach the scheduled locations of tasks in the form of an interactive map that enables him to know the location of the next task automatically without the need to search for the same."
The Municipality Department continued the presentation of its digital achievements to the stand's visitors who came to see the latest smart initiatives and projects.
From her side, Hind Al Shamsi, the Director of the Department's Smart Services Department and the Head of GITEX 2022 Team, stated: "The Department has left a remarkable imprint over the past days in the exhibition, bolstering its relations with all entities. The Department has also worked hard for the exchange of constructive ideas and expertise, a thing which led to the attainment of the highest levels of quality and excellency in customer service."
Al Shamsi continued: "The Department's qualified competent personnel have adopted an obvious and comprehensive plan for GITEX 2022, and were able to communicate directly with all the categories of the society in order to introduce them to the digital services." She invited the exhibition's visitors to familiarize themselves with the Department's achievements and to avail of the available features.