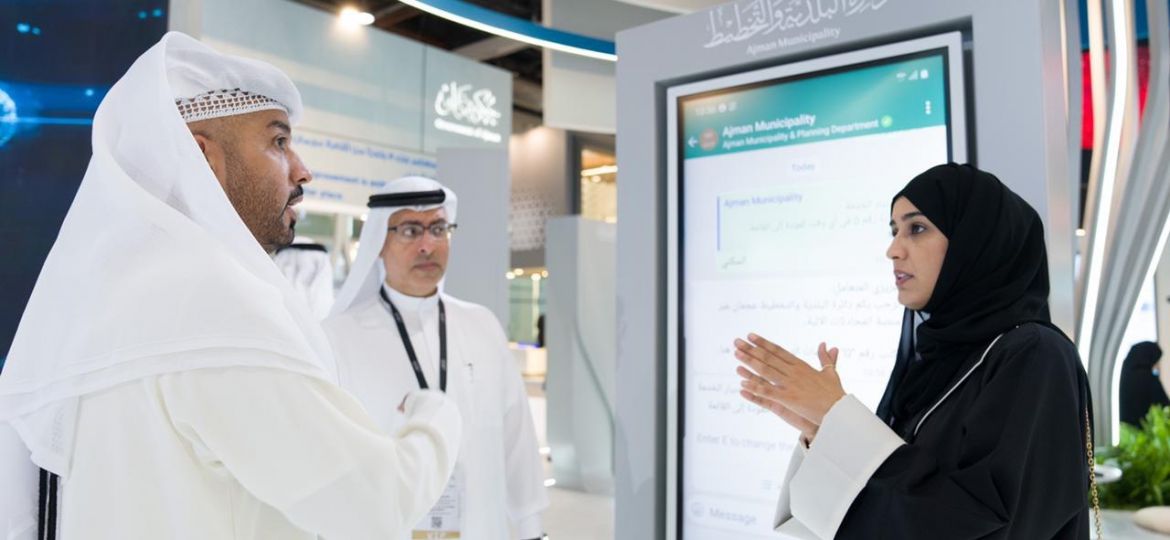 The Municipality & Planning Department – Ajman continued the presentation of its digital solutions and projects through its participation under the umbrella of the Government of Ajman in GITEX 2022, as the Department's stand witnessed, on its 3rd day in the most significant technical show in the region, the launching of a package of digital projects to enhance its active role in the fields of public digital transformation.
The Department commenced the events of day 3 with the launching of the 2nd version of its self-parking smart vehicle, by Dr. Eng. Mohammed Ahmed bin Omair Al Muhairi, the Executive Director of the Department's Infrastructure Development Sector. Such vehicle aims to manage parking spaces with the competent and efficient governance and completion of the associated processes on an immediate basis without human intervention, using the latest technologies of artificial intelligence (AI).
Dr. Eng. Bin Omair confirmed: "The Department is aiming to develop parking surveillance systems in the Emirate of Ajman, in implementation of Ajman's smart city strategy, and to go ahead in the domain of complete digital transformation. This vehicle will enhance the governance of the parking management process and achieve the best results."
The Department's events of day 3 in GITEX included the launching of 9 new services in the MPDA smart app by Dr. Eng. Bin Omair, who stated: "The Department is keen to provide a rich experience to the customers and to enhance their happiness, by increasing the availability of services in the smart app and the improvement of its procedures according to the global standards for the development of services in smart applications."
Dr. Eng. Bin Omair said: "The Department is looking forward to reach to every individual in the society and to provide qualitative services whose impact can be felt by all individuals. Therefore, we always aim to improve and add new and innovative services and features that are consistent with the best global specifications in the services provision field. The new services include the reference coordinates service for the provision of longitude and latitude coordinates and height for reference survey points, and applying for the determination of an infrastructure service route, applying for land coordinates, applying for the merger of lands, applying for the change of land use, the change of consultant, contractor change service, applying for the leveling of dirt roads, in addition to applying for the use of outdoor spaces."
It is ought to note that the Department's section at the Ajman Government Stand witnessed a large of number of visitors, who came to know about the latest digital and innovative initiatives and projects, and to shed light on the Department's most significant digital achievements.