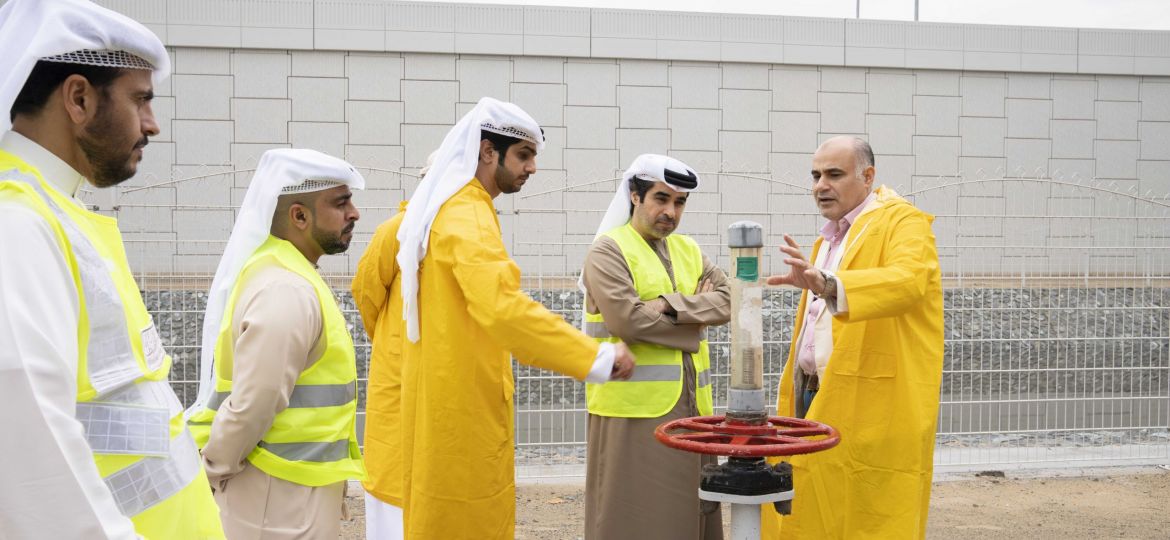 The emergency teams of the Municipality and Planning Department in Ajman continued to work to maintain the traffic flow, in light of the prevailing weather conditions, low temperatures and heavy rain.
His Excellency Abdulrahman Mohammad Al Nuaimi, Director General of the Department, accompanied by a delegation from the Department, which included Eng. Khalid Moeen Al Hosani, Executive Director of the Public Health and Environment Sector, and Humaid Al Falasi, Acting Director of the Roads Department, inspected the workflow at the pumping stations.
His Excellency indicated that the workforces use the latest equipment and mobile pumps, which contributed to the speedy disposal of crowds and the return of traffic flow to the roads. He also said that the Department is preparing a proactive annual plan to deal with the rainy season, which includes maintenance of stations and equipment and assigning workers to carry out a complete cleaning of all the main underground pipes
His Excellency called on the residents and visitors of the Emirate to report any emergency event via the hotline 80070. The Department formed 15 task forces to follow up on reports, communicate directly with the public, and monitor and follow up the drainage of rainwater throughout the Emirate.
His Excellency added that the emergency teams and working groups were allocated to the various regions of the Emirate of Ajman with the presence of specialists distributing security and safety means for cars and pedestrians, stressing that the teams will continue their working hours and will follow all sources of weather news in various local and international means for immediate intervention in the event of heavy rains, as they are well trained to deal with emergency cases and checking the flow of rainwater drainage and not obstructing traffic. Workforces will be allocated to all regions of the Emirate to go as quickly as possible to withdraw water from the streets, in addition to regulating traffic in the streets to ensure the safety of road users and smooth movement.
In a related context, the Department obligated all consulting offices operating in the Emirate of Ajman, to implement the circular issued by it regarding bad weather in emergency cases, which includes checking safety certificates for external elevators, adherence to the existence of safety certificates for metal formwork, and ensuring the protection fence around the sites in progress and installing it well to avoid any harm that may occur, in order to preserve the safety of everyone.
—– End —–