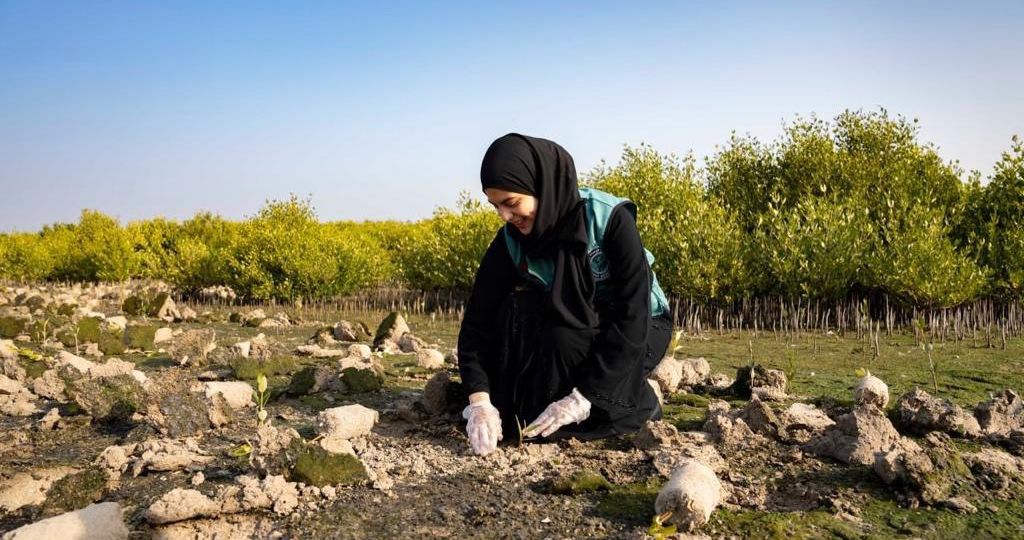 31 thousand Mangrove Seedlings Planted in Q1 2023
The Municipality and Planning Department in Ajman launched the Mangrove Cultivation Initiative in Al Zorah Reserve, coinciding with the National Carbon Sequestration Project initiative, which was announced during the COP26 Conference in Glasgow, in which the UAE participation in planting 100 million mangrove trees by 2030 was announced.
In this regard, Khalid Moeen Al Hosani, the Department's Executive Director of the Public Health & Environment Sector, confirmed: "The Department has begun implementing the mangrove cultivation initiative in cooperation with a group of local partners and international organizations to achieve the strategic goal of the state to achieve climate neutrality by 2050".
The qualified staff evaluated the sites for planting mangroves in Al Zorah Reserve, setting a plan to plant seedlings and seeds in the specified sites for rehabilitation and expansion of the area planted for mangroves, in addition to producing mangrove seeds, following up the growth of planted mangroves, and measuring the percentage of carbon rates that will be sequestered", Al Hosani added.
Al Hosani indicated that the Department is intensifying its efforts to preserve natural resources, as it was able to plant 31 thousand mangrove seedlings in Q1 2023 in Al Zorah Reserve in Ajman, as part of an educational program that includes monitoring birds and explaining the importance of mangrove trees in cooperation with partners, school students, society and employees.
It is worth noting that mangroves play an important role in absorbing and reducing a large percentage of carbon, which contributes to mitigating climate change. They are also of economic and biological importance for embracing diverse marine organisms and fish, acting as a shelter for migrating birds, protecting coasts from erosion, and developing ecotourism.
—————— End ——————