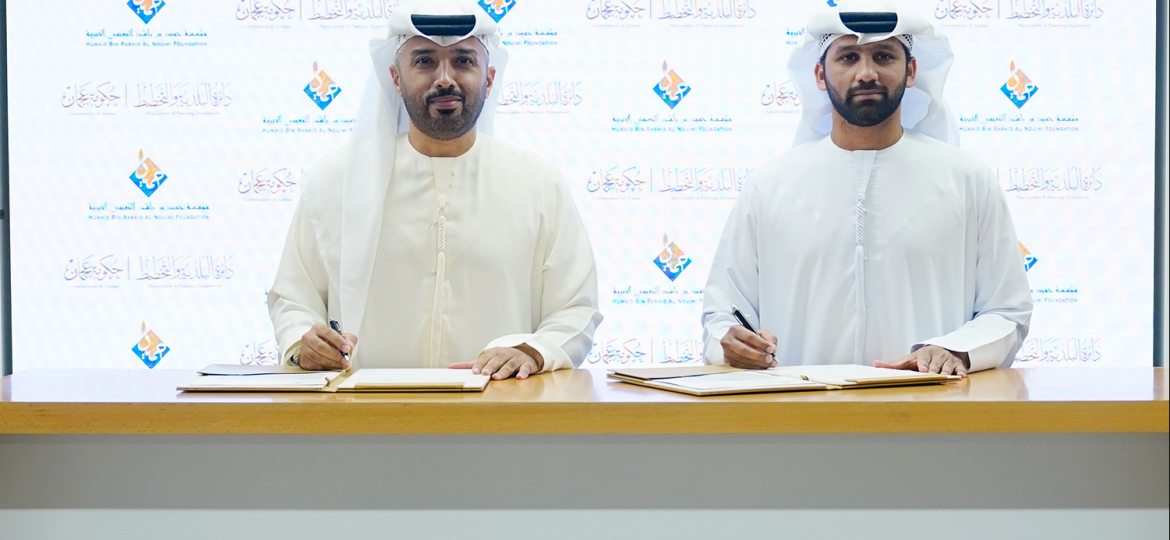 The Municipality & Planning Department – Ajman signed a memorandum of understanding (MoU) with Humaid bin Rashid Al Nouimi Foundation (HRNF) for the enhancement of their ongoing cooperation in what would contribute to the attainment of the desired objective and the creation of a cooperation environment by the efficient support and development of strategic partnerships.
The MoU was signed on the Department's behalf by Dr. Eng. Mohammed Ahmed bin Omair Al Muhairi, the Executive Director for the Infrastructure Development Sector, and on HRNF's behalf by H.E. Tariq Abdullah Mohammed Al Awadhi, HRNF's Director-General, with the presence of a number of officials of both sides.
In this regard, Dr. Eng. Mohammed bin Omair emphasized: "The Department is always working hard to enhance the aspects of joint coordination with all entities and organizations that provide qualitative services to the community. Everybody is aiming to achieve enterprise integration to serve the community and enhance the standard of the services provided to citizens and residents."
From his side, H.E. Tariq Al Awadhi conveyed his pride of the cooperation with the Department, which will ensure the provision of the approved drawings and engineering consultancies for the facilitation of the construction or maintenance process. He also added: "Experiences will be exchanged in the social field and the provision of administrative and technical consultancies and expertise transfer by the delivery of training programs in the fields of engineering and strategic planning."
The MoU sets forth the general framework of cooperation between both parties in the charity fields agreed on, as related to the provision of services to the target categories. Furthermore, it constitutes an official document that identifies and explains the points and aspects of joint coordination between both parties.