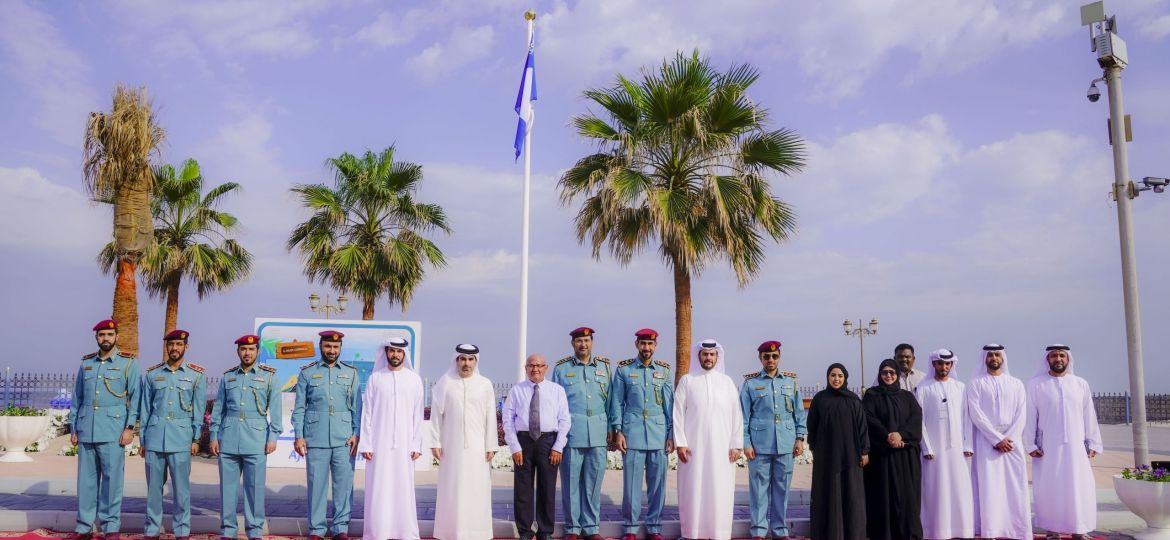 H.E. Abdulrahman Mohammed Al Nuaimi, Director General of the Municipality and Planning Department in Ajman, in the presence of Colonel Raed Obaid Al Zaabi, Director General of the General Department of Civil Defense in Ajman, Lieutenant Colonel Ghaith Khalifa Al Kaabi, head of the Comprehensive City Police Station in Ajman, and Eng. Khalid Moein Al Hosani, Executive Director of Public Health and Environment Department, and residents and some other officials raised the blue flag at the Emirate's beach, in order to achieve the required international standards, preserve the beach environment, and meet safety and security requirements.
In this context, His Excellency stressed that the Department, in cooperation with strategic partners, makes sure that the sea water is of quality, relying on accredited and reliable laboratories to carry out sea water examination once a month, to ensure that it is safe for beach visitors.
"We seek to spread positive culture and spread the principles of sustainability among the segments of society, and guide to the correct methods to be followed in the event of going to the sea, stressing the importance of permanent cooperation with every individual in society.", he added.
For his part, Ahmed Saif Al Muhairi, Director of the Agriculture & Public Parks Department, stated that its department adopts an integrated plan in the field of environmental education, where it organizes environmental educational activities, and opens the doors for participation to all segments of society.
Al Muhairi spoke about environmental management standards, which include the use of eco- friendly materials, recycling, and reducing energy and water consumption.
He also talked about the standards related to the scope of services and safety, which require the provision of means of safety, such as rescuers, first aid, and a plan in place to deal with emergency cases, and other services which include the provision of drinking water, parking lots, and paths for people of determination.