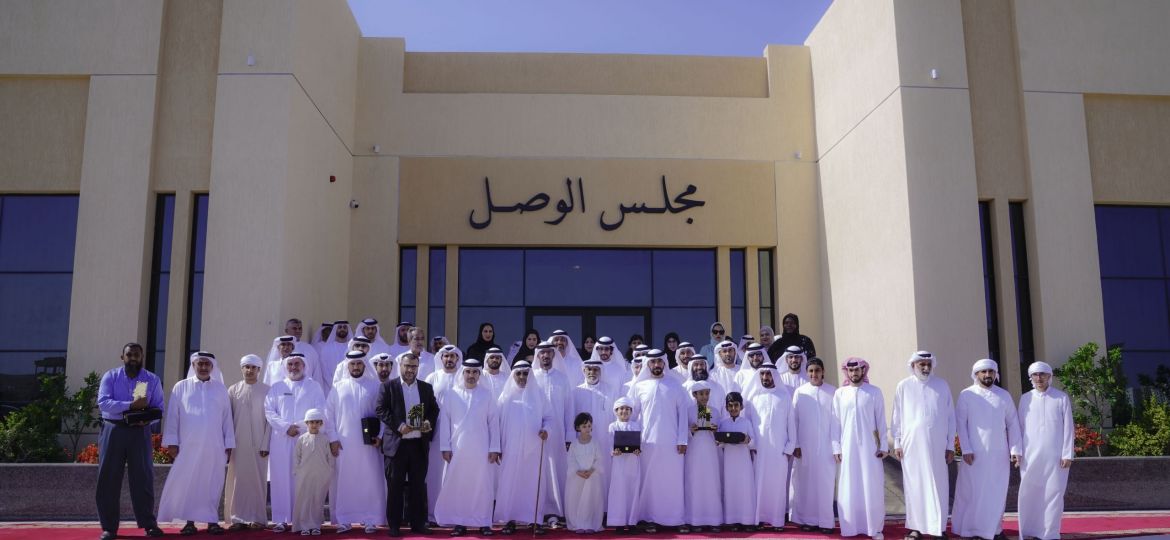 H.E. Abdulrahman Mohammed Abdullah Al Nuaimi, the Director General of the Municipality and Planning Department in Ajman, inaugurated Al Wasl Park and Majlis in Al Hamidiyah. The park was built on an area of ​​4,800 square meters, and at a cost of AED 2 million, as part of the Department's keenness to increase green spaces in the Emirate and upgrade it as one of the most important green cities in the world, where the elements of a comfortable life and a healthy atmosphere are available.
This came during his honoring of the 22 winners of the 14th Ajman Agriculture Award, in the presence of H.E. Eng. Omar bin Omair Al Muhairi, Director General of the Department of Lands and Real Estate Regulation, the executive directors, the success partners, sponsors and contributors to the success of the Award.
His Excellency stressed that the Department seeks ceaselessly to increase green spaces in the Emirate, spread positive culture among society and residents, encourage honorable models in the field of agriculture, and support the Department for the expansion of green areas. He explained that the Department is keen every year to continue organizing the AED 100,000 Award to promote bright experiences and encourage everyone to community's adoption of preserving natural resources.
His Excellency said that through the past sessions, Ajman Award was able to achieve the best results. The current session highlighted the best models in the productive home garden category and indoor and outdoor home garden category, and strengthened the efforts of the residents of the buildings by letting them participate in the best balcony category. He also appraised the ideal image in the best mosque garden, school garden and establishment garden categories.
For his part, Ahmed Saif Al Muhairi, Director of the Agriculture & Public Parks Department, gave a detailed explanation to His Excellency and to the attendees about Al Wasl Park, which was inaugurated as part of the Department's efforts to ensure the wellbeing and happiness of the community, indicating that the park was established in the middle of a vital area inhabited by residents and frequented by visitors, providing 83 parking spaces for park visitors, children's games and facilities multiple.
"Agriculture & Public Parks Department is developing a comprehensive and integrated plan that covers all regions of the Emirate to transform Ajman into a green and attractive city for all", he added, appraising the efforts of everyone who contributes, supports and motivates to achieve the desired goal.