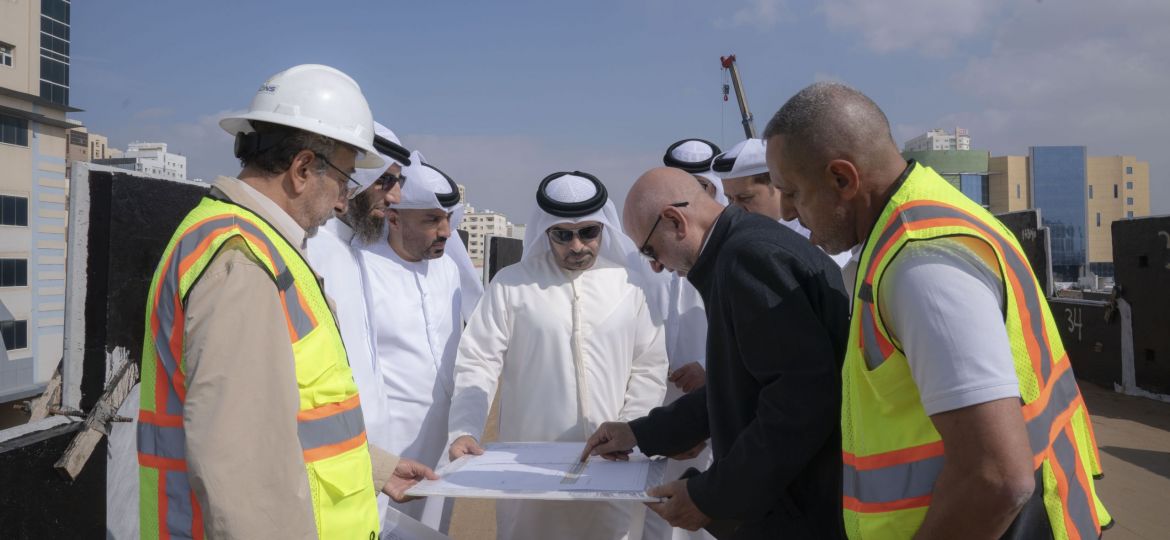 Completion rate reached 45%, at a cost of 71 million and 600 thousand dirhams
Abdul Rahman Al Nuaimi inspects the progress of work in the Al Ittihad Street development project in Ajman
His Excellency Abdul Rahman Muhammad Al Nuaimi, Director General of the Municipality and Planning Department in Ajman, inspected the progress of work on Al Ittihad Street development project, where its completion rate reached 45% at a cost of 71 million and 600 thousand dirhams, which falls within the second package projects of the initiative of His Highness Sheikh Humaid bin Rashid Al Nuaimi, Member of the Supreme Council Ruler of Ajman, to develop the emirate's infrastructure, in line with the strategic objective of developing an integrated infrastructure and enhancing the interconnection between infrastructure elements and residential communities.
His Excellency confirmed at the outset of the field trip, which was accompanied by Dr. Eng. Mohammed Ahmed bin Omair Al Muhairi, Executive Director of the Infrastructure Development Sector, Eng. Khalifa Abdullah Al Falasi, Director of Buildings Department, Eng. Abdullah Mustafa Al Marzouqi, Director of Roads and Infrastructure Department, and a number of experts and specialists.The projectseeks to raise the level of service in the vital street, which witnesses constant movement around the clock, to accommodate about 16 thousand vehicles per hour in both directions, and to save time by 50%, in line with the vision of the strategic urban planner Ajman 2040.
His Excellency indicated that the competent cadres working in the project continue their hard working hours to complete the project and automate its phases, indicating that the development of the street will include its expansion to include five lanes in each direction, from the borders of the Emirate of Ajman at Wasit Station, to the intersection of Sheikh Khalifa Bridge, and the construction of a bridge parallel to Al Nuaimiya Bridge with a length of 550 meters.. It consists of three lanes for those coming from the Emirate of Sharjah towards the Emirate of Ajman, and also includes a bridge to exit the industrial area towards the Emirate of Sharjah, with a length of 660 meters.
For his part,.Abdullah Mustafa Al Marzouqi explained that the Department sought to maintain the flow of traffic in the streets of the emirate and therefore adopted the alternative detour to Al-Ittihad Street, which was designed according to the highest international standards and traffic density requirements, to achieve traffic safety, not to conflict with the implementation work of the project, and to achieve high operating efficiency. The detour includes five lanes for those coming from the Emirate of Sharjah towards Sheikh Khalifa Intersection, in addition to two lanes towards Al Nuaimiya.
It is worth mentioning that the project work continues, as it includes providing entrances on both sides of the road to achieve traffic safety requirements, in addition to providing a rainwater drainage network, and organizing infrastructure services in the project area.
………………………. End of Text……………………………