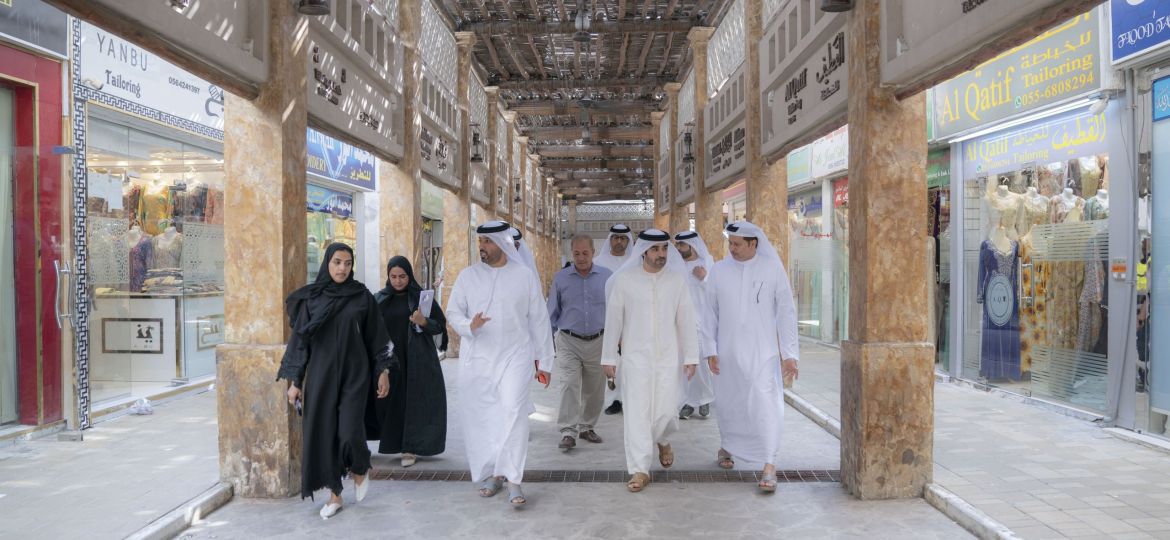 Percentage of Accomplishment Reached 51%
His Excellency Abdul Rahman Muhammad Al Nuaimi, Director General of the Municipality and Planning Department in Ajman, was briefed on the progress of work on the Heritage Path Project, which has reached a completion rate of 51%, with a length of 1.025 km, embodying the aesthetic and cultural interface, the past and the ancient history of the Emirate of Ajman, and is consistent with the strategic goal of achieving interdependence between infrastructure elements and residential communities.
At the beginning of the field tour, in which he was accompanied by Dr. Eng. Mohammed Ahmed bin Omair Al Muhairi, Executive Director of the Infrastructure Development Sector in the department, Eng. Khalifa Abdullah Al Falasi, Director of Buildings Department, Eng. Abdullah Mustafa Al Marzouqi, Director of Roads and Infrastructure Department, and Khamis Hareb, Director of Projects Department, confirmed that The Heritage Path project seeks to highlight the heritage and cultural image of the vibrant Emirate of Ajman that attracts residents, visitors, tourists and investors. The heritage path connects the heritage buildings starting from the house of the poet Rashid Al Khader to the Ajman Museum, the Heritage Quarter, Al Saleh Market and the heritage buildings in Al Nakhil area to extend to the waterfront.
His Excellency appreciated the efforts of human competencies, which continue working around the clock to complete the path that includes 4 regions, and each region reflects the spirit of the place between the past and the present, allowing for a smooth blending of the old and the modern, including stalls, markets and squares, in line with the goals of the Urban Plan 2040.
For his part, Dr. M. Bin Omair gave a detailed explanation to his Excellency about the development project that seeks to preserve the existing origin, the ancient history and the distinctive identity of the emirate with development, indicating that the qualified resources have adopted a clear plan to complete the walking path to encourage sustainable tourism, and it also employs the emirate's streets and community spaces, to achieve ccommunication and social cohesion to serve the residents and pioneers of the place.
…………………….. End of Text…………………………………………….